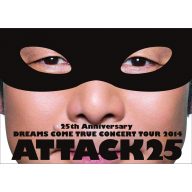 DREAMS COME TRUE
「25th Anniversary DREAMS COME TRUE CONCERT TOUR 2014 – ATTACK25 –」
LIVE「25th Anniversary DREAMS COME TRUE CONCERT TOUR 2014 – ATTACK25 –」参加
2015年7月7日リリース
Disc:1
OPEN SESAME+映像1
APPROACH
IT'S TOO LATE
MADE OF GOLD ―featuring DABADA―
愛して笑ってうれしくて涙して
この街で
それでも恋は永遠
あなたに会いたくて
悲しいKiss
映像2
THE CHANCE TO ATTACK WITH MUSIC
ONE LAST DANCE, STILL IN A TRANCE
I WAS BORN READY!!
軌跡と奇跡
MORE LIKE LAUGHABLE
あなたにサラダ以外も
MONKEY GIRL ー懺鉄拳ー(懺鉄拳の懺は懺悔の懺)
FALL FALLS
愛がたどりつく場所
想像を超える明日へ
MY TIME TO SHINE
さぁ鐘を鳴らせ
AGAIN
ENCORE 01. ハイッ! ハイッ! ハイッ! ハイッ! /恋の罠しかけましょ~FUNK THE PEANUTSのテーマ~
ENCORE 02. サンキュ.
Disc:2
OPEN SESAME
APPROACH
あなたに会いたくて
悲しいKiss
ONE LAST DANCE, STILL IN A TRANCE
あなたにサラダ以外も
AGAIN
さぁ鐘を鳴らせ
愛がたどりつく場所